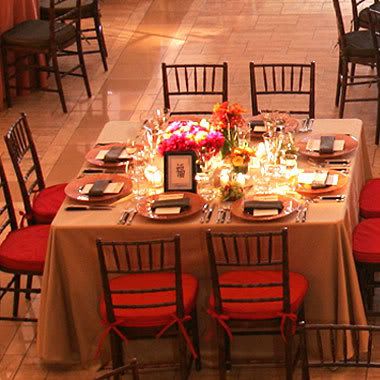 First, I know I have been a bad blogger, it seems like it has been only a few days but in reality is has been a couple weeks. Also, I am behind on the two ongoing posts I am doing. I will try to get those up soon. But I wanted to share a post with you regarding guest seating and table theme. This seems to be on the mind of quite a few brides right now. Read on!
Guest Seating
I have had some brides question what kind of seating to do for their reception. Here are some ideas!
Rounds – Tables can sit from 6-10 people depending in size. This is traditional seating for guests. 10 is a good number of seats for a round table. If you have more than this not all the guests on a table will be able to see/speak to each other. You can certainly do less if your location does not have tables big enough for 10. Keep in mind if you have fewer guests per table, you will end up with more tables and you could run out of room in your space. Here is a great chart for guest seating at round tables.
Rectangle – Tables can sit from 4 to anything! This seating can be used as a head table for the bride and groom and their bridal party. I have also had several brides used this for seating with their guests as well. It is a great way to have the bridal party, their dates and family all at one table. You can sit quite a few people at a table like this; it just depends on your space. It is also a great way to save some space in a small location.
Square - Tables can sit from 2 to 8 or more, depending on size. This is an awesome look and not too common. I love the look of symmetry and this definitely gives it to you!
Cocktail Table – Table can sit 2-4 depending on size. This can create a funky feel to the reception and again, you will need to watch spacing and room size. These can be square and rectangle in shape.
Small Cabaret – Table can sit 2-3 depending on size. Another funky way to spice up the reception. It is a small round and can get crowded easily. I would a small arrangement on this kind of table. This is popular at a cocktail reception.
Tall Cabaret – Table can have 2-4 standing depending on size. You can have guests stand or sit on a barstool for this kind of table. Another way to do something different. Again, you would want to do a small arrangement for this table. A good choice for a hors d'oeuvre reception!
Sweetheart Table – Just for the bride and groom! This will give you a little time to be together during dinner. Yes, people will still come and talk to you, but you will have some time together.
A great idea is to mix different table sizes and shapes together. This can create an awesome visual for your reception.
Table Themes
Do something different with your tables! Instead of just doing numbers, think of a theme that means something to you both! Here is a list to get the juices flowing!
Places you have traveled together
If you were born in the same year, do a table for every year and a picture of each of you.
Quotes
Love words
Flowers
Countries/Towns
Colors
Bands/Songs
Cocktails
Wines
Beers
Sweets
Dance Techniques
A word or phrase in a different language
Famous romantic couples
These are just a few ideas, but the sky is the limit!